For bed linen products, we are not only doing wholesale business, but we also do custom service. So, which of our projects support customization, you definitely want to know;
Let's introduce in detail the categories we support for customization;
1. Choose the type of material you want;
We support cotton, bamboo, linen, microfiber (polyester), flannel, velvet, Tencel, modal, viscose, nylon and silk materials. You can make a variety of choices according to your own design.
Of course, a large number of our products are mainly made of cotton, hemp, tencel, bamboo fiber and flannel.
2.Choose the thread count;
The thread count ranges from 80GSM, 90GSM, 100GSM, 110GSM,130GSM, 150GSM
3.Fabric count;
The fabric count is the key to the selection of the four-piece suit, it represents the thickness of the yarn. The larger the quantity, the finer the yarn and the softer the hand.
Usually "S" is used to represent the unit of "branch". Usually: 32S, 40S, 60S, 80S, generally more than 40S is called "high branch".
4.Weaving process;
 The weaving method like plain weaving, Twill weaving, and Sateen weaving,
5.Coloring technology
A. Yarn-dyed.
It is the process of dyeing cotton first and then weaving. Pure cotton washed cotton represented by MUJI is basically a yarn-dyed process.
B. Printing.
This refers to the traditional printing method. More representative is the continuous repeating, relatively flat pattern, this kind of printing cost is lower, and the pattern is relatively monotonous and simple.
C. Digital printing.
Different from traditional printing, there are computerized pattern design software, the color patterns are richer, finer and stronger, more environmentally friendly, and the gradient is softer and more delicate.
D. Jacquard.
When the fabric is weaving, the pattern is formed by the change of the warp and weft structure. The pattern is relatively regular, mainly geometrical, and has a sense of order and beauty.
E. Embroidery.
This is the most common, but don't think that there are such flowers, dragons and phoenixes in your mind. In fact, embroidery can be very young or very artistic.
6.Size customization;
You can take reference as below chart or we can make product according your size chart.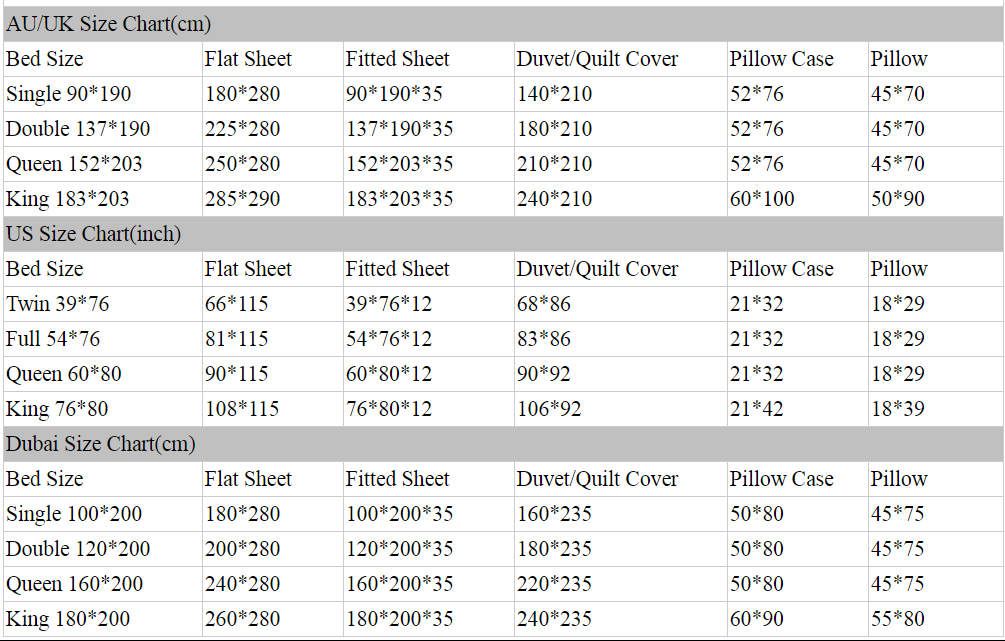 7.Color customization;
For examle as below color pattern or you advise with color information by cetainly data(picture,color number in pantone etc)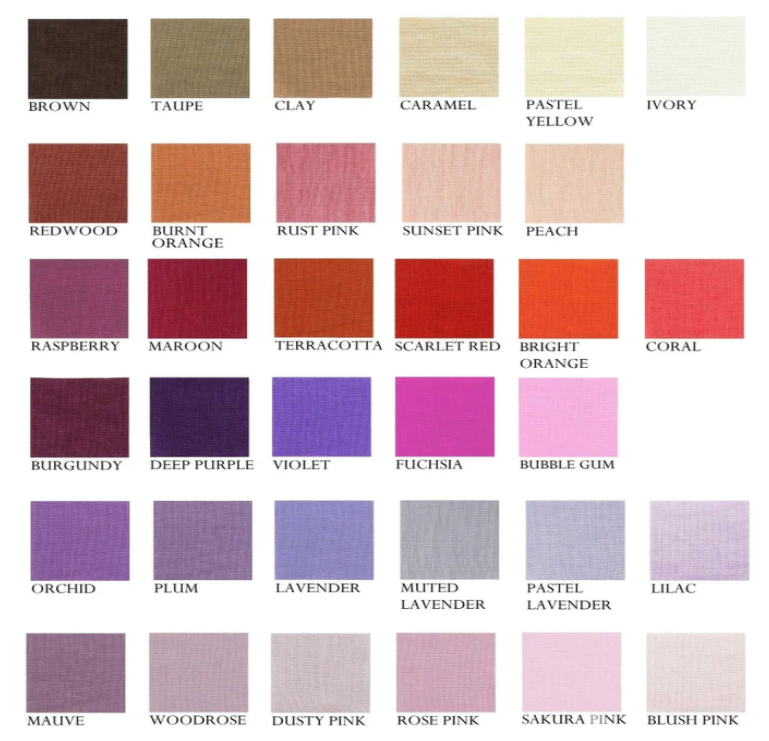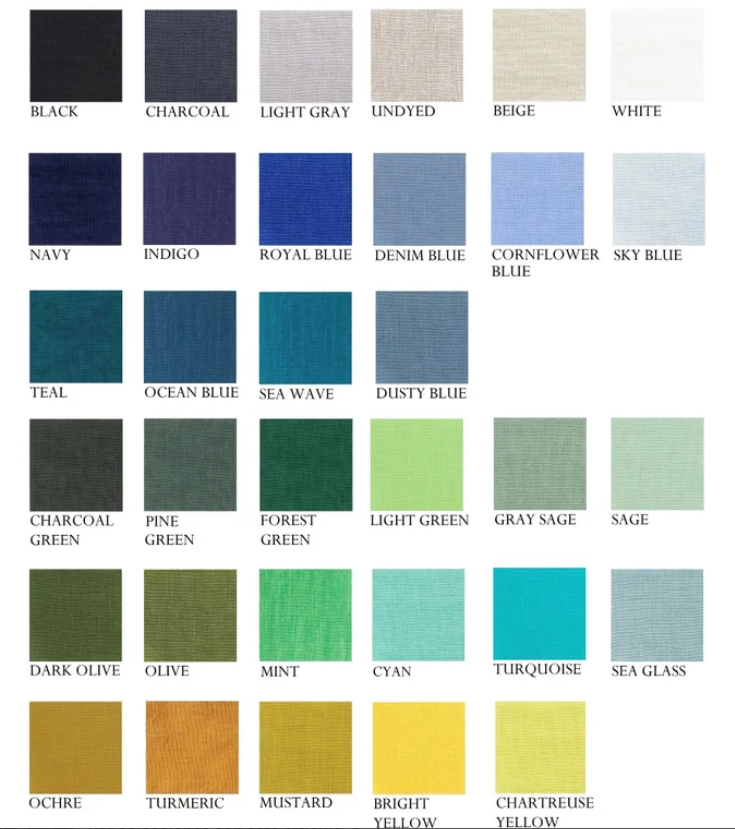 8. Packaging customization;
Regarding the packaging, we can support the customization of various designs, such as paper cartons, pvc bag, cloth bags and so so on the packaging and other sizes, colors, and logo customization.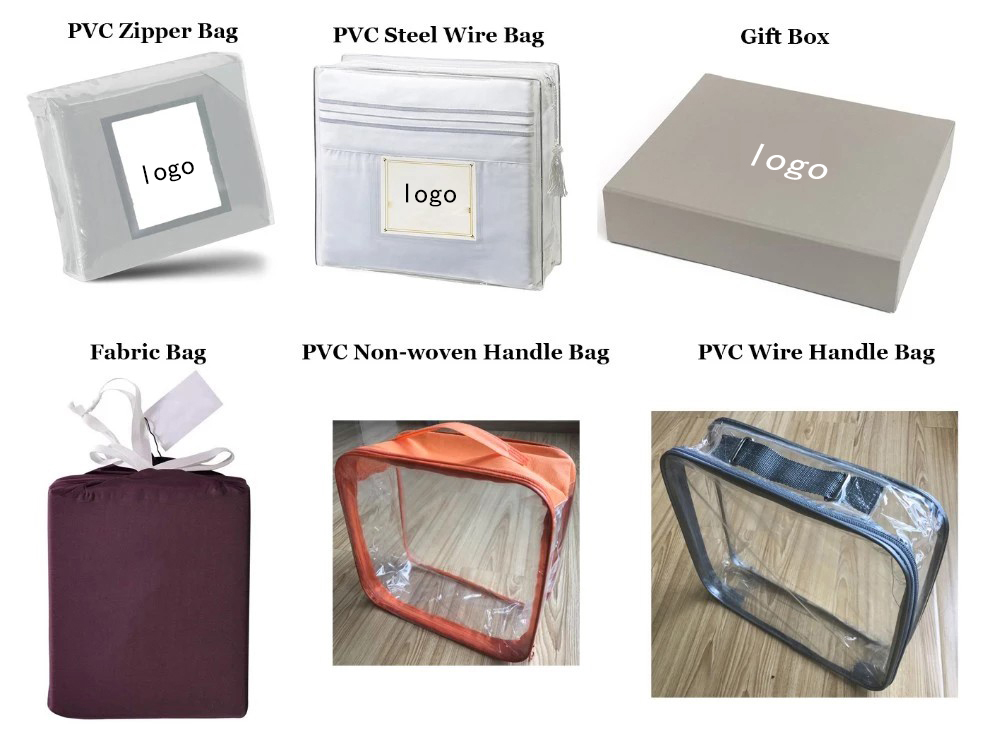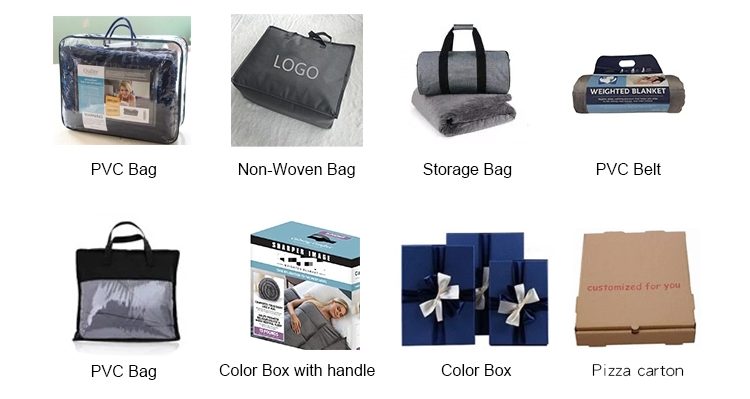 Or use rainbow method;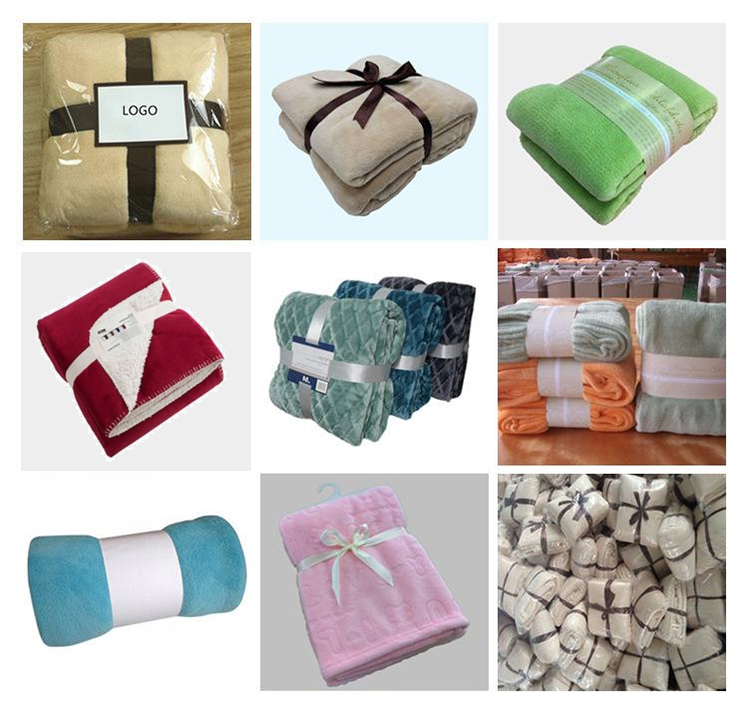 In the end, with the understanding of the above general conditions, you can conduct effective communication and cooperation by contacting our sales and following the steps below.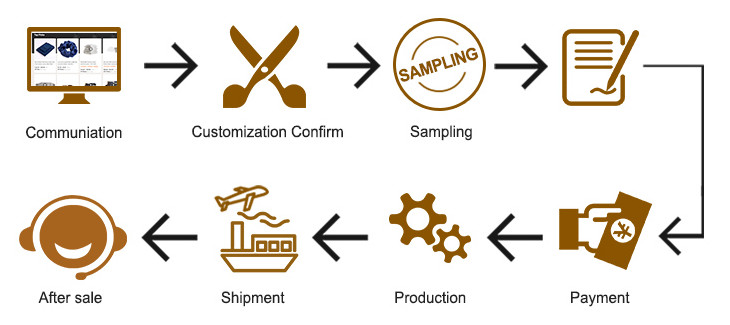 We welcome any inquiries from you at any time, please feel free to contact us!